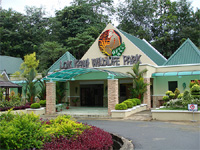 A30 to 40 minutes drive via the old Penampang-Papar road to the southwestern part from the Kota Kinabalu will bring you to the Lok Kawi Wildlife Park. Situated about 25km from the city centre, this park has recently been officially open for the visitors this year.
The park is managed and operated by Sabah Wildlife Department under the Ministry of Tourism, Culture and Environment. While most of the visitors viewed it as a zoo, it is actually a small wildlife rehabilitation centre. The 280 acres of land hosted nearly 100 species of plants, birds and wild animals. The botanical garden which is located near the end of the zoo is managed by Sabah Forestry Department.
Attractions
The park has a few interesting sections, namely the aviary, botanical garden, and majority of the parks contains mammals sections. There is also a children's zoo and amphitheater inside the park. To cover up a visit of the whole park, you may need to spend nearly 2 to 3 hours. Umbrellas are available for rent at the entrance and there are plenty of shelters for you to stop and continue watching. There are also a few boards containing useful information.
Visitor will be able to witness rare animals like the endangered pygmy elephants, gibbons, clouded leopard, civet cats, tarsiers and Orang utans. As at the moment of writing, there is only one Sumatran Rhino. The Sumatran Rhino is a highly endangered species in the world and is not very often easily spotted.
Parents will find the park useful as it will be able to provide ample information thus spreading the importance and awareness of our own wildlife. A guide can be hired to bring you along, and he/she will be able to learn more as guides will be able to give more information and explanation about wildlife and plants along the way.
Outside the entrance, there are a few souvenir shops that offer a range of local products. Among them, you can also purchase merchandise such as postcards, fine prints of wildlife, handicrafts and key chains as mementos of your visit. While at the park, visitors are highly warned as well as encouraged not feeding or provoking the animals. Bring home nothing but pictures.
Other Information
*Information only correct at moment of writing.
For those of you visiting Sabah on a very short time, you may opt to visit the park which is open daily from 9.30 am to 4.30 am. Yes, for your extra information it does open on public holidays! The Entrance fees are free for school children below 17, senior citizens above the age of 60 and People with special needs. Foreigners are charged a fee of RM20 for adults and RM10 for child. Locals with genuine citizenship are charged a fee of RM10 for adults and RM5 for children below 18 years of age.
By Collin Choo